Leadership & Staff
Meet the team of people who equip us for ministry
Our goal is to equip every covenant partner for ministry. 
The First Pres leadership is here to help everyone live in to their God-given abilities and callings, both inside and outside the church. We believe that all that we do should be done to the glory of God. Our leadership is made up of pastors, elders and deacons who help others do just that.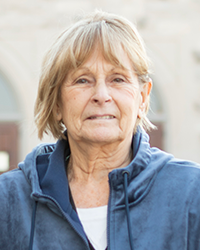 Elders
The congregation elects Elders each year to lead the church. Elders are expected to be mature followers of Jesus who work together to equip the church to carry out its mission. Elders serve three-year terms and are made up of three different groups of people whose terms expire together. Together, the group is referred to as a Session, and they meet on the fourth Tuesday of each month. Meetings, held at 6:30 p.m., are open. Those currently serving as elders are listed below.
Term Ending at the End of 2025: Lyle Jacobsen, Robin Keesee, Rachel Lemn, Phil Saunders, Jeff Stapel
Term Ending at the End of 2024: Wayne Hannah, Katie Hylton, Jessica Long, Renee McCulloch, Judy von Seldeneck
Term Ending at the End of 2023: Bob Augst, Mal Lane, Mike Robison
Deacons
The congregation elects deacons each year to serve in the care and local-missions ministries. Their term ends after the year listed in parentheses.
Term Ending at the End of 2025: Amy Birdsong, Cheryl Cassell, Anne Depoy, Nita Lord, Sarah Price 
Term Ending at the End of 2024: Loretta Clark, Lynne Stiefvater, Winifred "Wini" Yu 
Term Ending at the End of 2023: Janice Pence, Mary Scott