Sunday Worship
You may be quick to gloss over this one because we do it every week, but remember, this is why we are here. We gather to worship every Sunday, and we have expanded beyond our doors with online streaming. We are grateful to worship our faithful God! 

Courtyard is Finished
It was delayed by the pandemic and supply-chain issues, but the courtyard is finished, and starting in spring and summer, we will be able to use the space as a gathering area and a place to draw in our community in downtown Harrisonburg.

Children are Back!
We finally returned to in-person children ministries in 2021, with Summer JAM Camp, Sunday school, Children's Church and nursery finally back. Here's to the sound of children learning about Jesus and sharing that joy with others!

Day of Service
Our second annual Day of Service highlighted a key value we have at First Pres: We love our community. In November, we helped Roberta Webb Childcare repair and rehab some of its playground area. We also served lunch to first responders.

Growing College Ministry
We were glad to welcome back thousands of students to downtown for Back to the Burg in August, and even more than that, we've been grateful for the students who call First Pres home during their college years. We are glad to have them part of us.

A Connected Church
When our sister church in Stopover, Kentucky, was badly damaged by a mudslide, First Pres sprang into action. We sent work crews and later, you raised more than $23,000 to help the small, rural church get back on its feet.

Virtual Mission Trip
We headed to Jimma, Ethiopia, to meet our brothers and sisters there, and we didn't even need to board a plane! It was a special time of fellowship and worship across the miles. We also prayed with and for each other as we do ministry in our different communities.

Caring for Each Other
After planning and training, our Stephen Ministry launched in 2021, giving us another way to care for each other. Stephen Ministers are equipped to walk with those facing difficult seasons of life. They help point others to Jesus and his care-giving love and compassion.

A Plan for the Future
We have spent the past year praying about and discussing where we see God leading us in the coming years. The result is a strategic plan that we are excited to get started on during 2022 and beyond. We are eager to put actions to our plans and see many come to know Jesus.
2021 Video Highlights
We captured many of our moments in video highlights. Scroll through and you can view some of the videos we created this year.
In 2021, the Administrative Committee saw God at work as the church received $977,027 in congregational support. With other income, total income for 2021 was $1,021,058.
As the pandemic continued to affect programming, and with staff vacancy, total expenses were under budget and were $855,290.
We give thanks to God for His provision. Because of the level of giving and the savings in expenses, we begin 2022 with a surplus that will help us fully fund the budget.
More detailed information on the budget will be available in our Annual Report email. You can also find out more by contacting a member of the Administration and Finance Committee.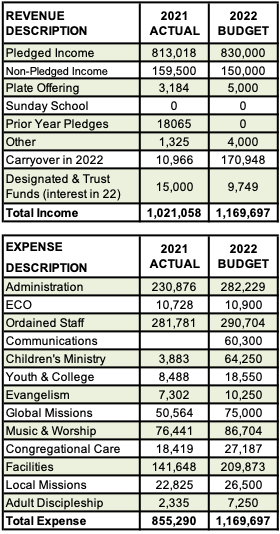 Team Reports
We asked all of our ministry teams and committees to tell us about 2021, what they're looking forward to in 2022 and prayer points for their area of ministry.

Worship
Worship is at the heart of what we do and who we are. While the challenges of gathering for worship were not as intense during 2021 as they were the previous years, we continued to provide a livestream worship option during both of our worship services.
In addition to regular Sunday worship, we celebrated in creative ways during several liturgical seasons. On Ash Wednesday, we hosted an interactive experience featuring stations where participants could engage with scripture or spiritual practices. On Pentecost, we brightened the sanctuary with red and yellow and orange. And on Christmas Eve, we were excited to gather again for two candlelight services after the pandemic had us outdoors for one service last year.
The Worship Committee also enhanced the sanctuary sound system, studied the health of the organ and discussed ideas for drawing in more people to worship with us.
Prayer Points
That we can discern effective ways to use the courtyard for worship
That we would seek God in how we can attract more people to worship God with us
College & Evangelism
Our college ministry continued to grow in 2021 as we reached students from the colleges and universities in our community.
 A major connection point was between the worship services on Sundays when college students gather for brunch in Showker Hall. There, they meet First Pres covenant partners, enjoy fellowship and connect with scripture.
We also went to college students, helping with JMU's move in and welcoming new students to our community. The next week, we set up music, food and Gaga Ball on Court Square during Back to the Burg, an annual event that brings all JMU freshmen downtown. During exam weeks at JMU, we set up a refreshment and encouragement station on Mason Street, a common pedestrian path to campus from downtown.
First Pres also had opportunities in 2021 to welcome parachurch ministries into our facility when Covid limited the space available to them at JMU. Groups that used our facilities include InterVarsity, Wyldlife Thomas Harrison and Young Life Capernaum.
Prayer Points
To utilize the new church courtyard for outreach events and to reach the nations and specific demographics with the Gospel.
That God would provide our team with someone willing to chair and that we could help mobilize our church in evangelism.
Children & Families
The highlight of 2021 for Children's & Family Ministry was welcoming back the children! We were excited to re-open the nursery, Children's Church, Summer JAM Camp and Sunday school. It has been a joy to be with the children again!
Children's Ministry provides continual opportunities for discipleship and evangelism. It has been especially thrilling to watch multiple generations interact together on Sunday mornings. We currently have volunteers with an age span over five decades. It is delightful to watch the children of First Pres interact with college students, parents, professionals and grandparents. And these interactions are beginning to spread beyond classroom time as the children greet volunteers in worship or even when meeting outside of church. We have also noticed a deepening of relationships among our volunteers with one another as they spend time together while volunteering with the children. 
We have chosen to focus on ways to bring the Gospel into focus during our Sunday school lessons, specifically studying the Fruit of the Spirit through the life of Jesus. We began to add memorizing a passage of Scripture to our Sunday mornings. We are also being more intentional about finding ways to connect with children of various learning styles making sure to include auditory, visual and kinetic elements.
Summer JAM Camp was a great success, even as we worked through the logistics of Covid protocols to keep everyone as safe and healthy as possible. We had almost perfect attendance with the families that registered to attend. We also had several guests join us, several of whom had little to no knowledge of the Bible or Jesus. We are grateful for a wonderful time of learning together.  
As we look forward to 2022, we are excited to watch children learn more of God's truth and grace. We have begun a study through the Old Testament in our Sunday school classes, looking for how every story points us to Jesus. We are especially encouraged to watch our oldest students begin to study directly from the Bible text. We look forward to having Summer JAM Camp again this year. Most of all, we long to see the generations interacting with one another and moving each other closer to Jesus. We hope to have even more volunteers willing to interact and invest in our children. Children's Ministry is a place of joy, discovery and great opportunity.
Prayer Points
We continue to pray for a new Director of Children and Family Ministry.
Pray for the children's hearts to be drawn to Jesus and for more members of the congregation to desire to be a part of this ministry.
Adult Discipleship
When the Adult Discipleship Team conducted a congregation-wide survey about how people grow in their faith, we found that relationships and interactions with mentors, parents, Christian friends and small groups were the most influential.
Here are some ways we helped people grow in 2021:
Two women's discipleship groups were started.
Three men's discipleship groups were started or maintained by our team's leaders.
Five spiritual formation men's groups were spawned in 2021 from earlier groups organized by Pastor Jon, using the popular James Bryant Smith Apprenticeship Series.
Adult Sunday school class offerings expanded from four to six.
Small groups are a critical part of discipleship at FPC. Our team checked in with each small group in January and February 2021. A number of groups used Zoom part or most of 2021. There has been some movement in the groups through the Covid season with most continuing and a small number stopping temporarily. We are aware of eight to 10 active, healthy small groups functioning in 2021.
In 2021, we also continued to provide online and hybrid opportunities for discipleship. A new subgroup is focusing on digital and media resources as we continue to look for ways to go beyond our walls for discipleship.
A team also has made great strides in modernizing and automating the church library. Over 2,000 books and materials have been manually added to a master database that will, when completed, feed an automated book and material checkout. Hundreds of brand-new children's and teen books have been selected and added to the collection and we expect to have the nucleus of an upgraded commentary collection selected and purchased before reopening.
As we look to 2022, we are eager to:
Assist parents with support for childcare while they participate in mid-week Bible studies and related programs.
Start at least two new small groups.
Begin a new online women's Bible study in the spring.
Find new and more effective ways to engage covenant members in discipleship development.
Prayer Points
Pray that two or three additional covenant partners would chose to be a part of this exciting team.
Pray the Holy Spirit would open our hearts and minds and lead us to ever greater wisdom and skill in making disciples that make disciples.
Pray the Holy Spirit will especially bless and guide our leaders, Teri, Adam and Scott in 2022.
Youth
In 2021, our youth engaged in discipleship online and in person. After a pause due to the pandemic, Sunday night discipleship opportunities relaunched and featured leadership from some of the college student who attend First Pres. 
This year's Confirmation class included 15 students who learned about the truths of the Gospel and were given an opportunity to commit to following Jesus and joining First Pres as Covenant Partners.
Youth also got to be part of several retreats that aimed to grow their faith. Those included middle school Modgnik at Rockbridge, Disciple Now in Harrisonburg and Renew, also in Harrisonburg. During the summer, our youth were a vital part of helping with Summer JAM Camp for kids.
Prayer Points
To reach out and get more adults and teens involved in our discipleship opportunities.
That God would raise up more adults who want develop deeper relationships with teenagers and help disciple this generation.
That God would help us reach our teen's peers who don't know Christ.
Global Missions
Global Missions had an active and diverse 2021. During the group's monthly meetings, several of First Pres' mission partners connected with the team, including Dennis Karp, Patrick and Amy Werner, Matthew and Teresa Lee, Thomas Wong and Jennie and Marcia from Kerus.
The team coordinated a project to send Easter baskets to First Pres' supported missionaries.
The team also increased its focus on Central Asia outreach by beginning support of a new missionary in this region through the Antioch Partners.
During the Muslim celebration of Ramadan, the team provided prayer guides for the congregation.
Three of our mission partners preached this year. We hosted Donald Marsden with Frontier Fellowship in the pulpit, and Dr. Sasan Tavassoli joined us by Zoom from Atlanta, after he was unable to attend in person as planned. New mission partner Bradley Long of Frontier Fellowship also preached.
We also hosted for several days one of our not publicly named (because of safety issues) missionaries to Central Asia, who met with the committee to update them on her work. She also attended several women's Bible studies and small groups.
We provided funding to help rebuild after severe flooding damaged a seminary in Addis Ababa, Ethiopia.
Thanks to technology, we held a virtual mission trip with our sister church in Jimma, Ethiopia. We heard from each other, worshiped together and prayed for one another.
We continued, through our monthly missions offering collection, to support the widows and orphans affiliated with our sister church in Jimma, and also the orphan-care centers established by Kerus in South Africa. We authorized a special offering to support Local Missions to help in repair of flood damage to Shepard Memorial Presbyterian Church in Kentucky.
In the coming year, Global Missions hopes to attend a Covid-delayed Frontier Fellowship 40th anniversary celebration in conjunction with the Connecting Mission Leaders Conference in Nashville.
The team also wants to fulfill its vision to increase congregational awareness of and engagement with our missionaries. We want to be a "sending church" that raises up people to go to mission fields around the world. We plan to continue regular Zoom meetings with our missionaries, and plan to work with them to create video clips which we can share with the congregation. We will consider having Sunday School classes as well as any other groups (such as Bible Studies, small groups, etc.) adopt a missionary.
Prayer Points
We are looking at an opportunity to be involved in a local church plant involving a Christian Arabic Church that has reached out to us for possible support. Pray for God's guidance and provision.
Pray for success in our ventures to engage the congregation more in our vision for fulfilling the Great Commission.
Local Missions
As Covid continued to affect our lives, we were blessed to continue providing a bagged soup kitchen meal on Tuesday evenings. In September, a sit-down lunch replaced the Tuesday meal.
In its formative days this year, the Blue Ridge Free Clinic received a $4,000 donation from FPC after Local Missions evaluated their needs.
Anne M. Morrison left a very generous bequest to FPC with the "purpose to aid, directly and indirectly, through church programs, local disadvantaged youth, with special care for the visually impaired where feasible." The resulting earnings on those funds has allowed our committee to designate five local organizations with each receiving $2,000.
It is our mission to share the gospel of Jesus Christ by serving the physical, emotional, and spiritual needs of our neighbors in Harrisonburg and Rockingham Co., and in special situations beyond those borders. The continued generosity of the FPC covenant partners made it possible to fund the planned budgeted community organizations and respond to a few unexpected situations in a significant way. Including the monthly Local Missions recipients, over 25 organizations received about $50,000.
Prayer Points
That we continue to assess needs of our community are in a good position to provide assistance in those instances where the needs are greatest and aligned with our focus. We want to be Jesus' instruments to reach those in our community who are in circumstances that go beyond their ability to meet basic needs such as shelter, food or financial shortfalls.
Shepard Memorial Church in Kentucky, which is a church we helped after a mudslide.
That our committee earnestly seeks God's will to provide us with His directions, His wisdom and His love so that we can reach those in the Harrisonburg community in a way that gives God the glory for our support and actions. We want those we serve to know that our support is a conduit of love from God.
Congregational Care
Many neighborhood groups enjoyed social gatherings in First Pres' new Neighbor to Neighbor shepherding initiative. Stephen Ministers were commissioned in December 2020 in preparation for ministry in 2021. Valentine's Day was observed with cookies and cards sent to many elderly covenant partners. GriefShare was an important program to many within our church family and to many not affiliated with First Pres.
Prayer Points
To continue connecting through Neighbor to Neighbor shepherding.
To continue providing care and comfort particularly to the elderly who are not able to attend worship, Sunday school and small groups.
Pray for shepherds to step forward in neighborhoods that don't have them.
Pray for people to request Stephen Ministers in their time of need.
Facilities
After several hurdles during the pandemic, the church finally saw the completion of the courtyard between the sanctuary and 9 Court Square. It is now ready to be used as a place to engage our neighbors.
Also in 2021, First Pres hired Paul Seddon as facilities manager. He joined the team in August and has brought excellent leadership to the church.
The facilities team continues to make improvements to our church. Some highlights include:
Sealing and lining the parking
Re-edging and cleaning up flower beds around the facility
Installing a new keyless entrance system.
We continue to deal with major repair bills resulting from an aging heating and cooling system, and we are working with the Session to find solutions.
We are proud of the work that has been done to keep the church safe and clean during Covid. Through these efforts, we kept our doors open to many outside Christian groups that could not find other locations to meet due to Covid.
Prayer Points
Finding a solution to our ongoing heating and air conditioning repairs.
Safety of our facilities team as they complete their day-to-day work.
Communications
During the pandemic in 2020, we began a concerted effort to increase our digital communications, using social media, video and web content to reach beyond our walls into the community. In 2021, with a part-time staff position devoted to that work, our communications efforts continued to increase.
Each week, we engage with the community on social media. Our goal is not to be event-centric, but to use the tools of social media to disciple and evangelize. We do that by sharing sermon clips, writing blog posts, seeking discussions and engaging with community groups online. In 2021, we saw our engagement on both Facebook and Instagram increase.
We have also significantly added to our video storytelling by recapping First Pres ministry events, highlighting ministry opportunities and doing "Say So" stories, mini documentaries about how God is working in someone's life.
Looking to 2022, we want to continue to experiment and be creative in our digital ministry. It is a mission field that is ever changing, and we want to harness technology for good. We want to draw people in to know Jesus and connect them with our body of believers for greater discipleship.
Prayer Points
For creativity to share Jesus in ways that are attractive and honest to who He is and who we are.
For a vision to showcase Jesus through a city-bus ad campaign in 2022.
For more media-minded, creative people to join us in our ministry.
Long-Range Planning Task Force
In April 2021, Session created a Long-Range Planning Task Force to engage in conversations with covenant partners and church leaders to identify tasks and projects that would best advance the church's strategic priorities. Those priorities are evangelism, discipleship and the effective use of our facility.
Over 30 "Big Ideas" for these tasks and projects were submitted to the task force by committee/team chairs and covenant partners. Meeting at least twice a month from June to October, the task force selected nine Big Ideas and developed a report explaining each of these along with a priority for each and submitted it to Session
In December, Session approved the Big Ideas and the priorities submitted by the Task Force and decided to focus on the top four Big Ideas. Those were:
Create a Master Plan for Facilities
Complete the Courtyard
Intentionally Strengthen Children and Family Ministries
Planting a Church
A January leadership retreat focused on discussions about each of the four initiatives and how we can move forward with them. The Task Force is excited about receiving so many ideas, God's guidance as we considered the ideas and the way we are now beginning to make plans around those ideas.
Our hopes and dreams are that by May 2022, with God's guidance, initial planning will be completed and steps will begin to implement each of these initiatives.        
 Prayer Points
That God will guide the leadership of the church to advance discipleship, evangelism and the use of our facilities.
All in for 2022
What's next for First Pres?
God is doing incredible things in our midst here at First Pres, and we are excited about the finding ways to join Him in His work of reconciling people to Himself. We're all in as we begin 2022, and we invite you to join us.