Sunday Worship
One of the catechisms says our "chief end" is to "glorify God and enjoy Him forever." We experience and participate in that anytime we gather together to worship. The number of people joining us in person for worship was up nearly 20 percent over the previous year as we welcome guests who have become Covenant Partners.

Beyond our Walls
We are taking the church to our community. Whether it is through a block party in Morrison Park (above), dinner for local police or celebrating downtown events with our neighbors, 2022 has seen us step out more often and in more creative ways than in some time.

Children's Ministries
While we continued to search for a children's & family ministries director, our children's ministry team excelled at continuing the work of telling kids about Jesus. Summer JAM Camp was a huge treat, and we ended the year announcing the hiring of a new director.
 
Growing the Kingdom
First Pres' reach extends around the world to some of the most difficult places for the Gospel message. Through prayer, encouragement and financial support, First Pres is committed to partnering with mission workers who are meeting physical and spiritual needs around the globe.

A Welcoming Presence
Whether it was at Harrisonburg United (pictured), Back to the Burg, the International Festival or smaller moments like praying together in the Courtyard, we have made the Courtyard green space a place to welcome the community to First Pres. 

New Covenant Partners
We welcomed more than three dozen new covenant partners into our family of faith in 2022. They are engaged in the mission and work of First Pres, and we have loved watching them grow and serve. We are grateful for these newest members ofour family. 
Thanks to your generosity and a decrease in expenses in several areas, First Pres ended 2022 with a healthy surplus that will jumpstart our ministries in 2023.
With staff vacancy and some savings in some expected spending, total expenses were under budget and were $1,076,537.
We give thanks to God for His provision. Because of the level of giving and the savings in expenses, we begin 2023 with a surplus that will help us fully fund a budget that includes some exciting initiatives toward fulfilling our mission and vision.
More detailed information on the budget will be available in our Annual Report email. You can also find out more by contacting a member of the Administration and Finance Committee.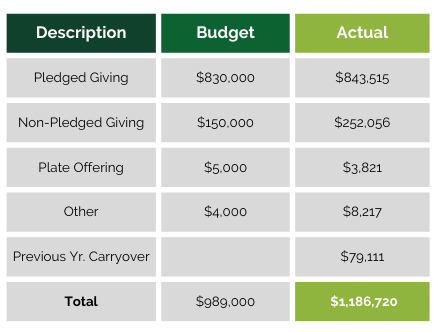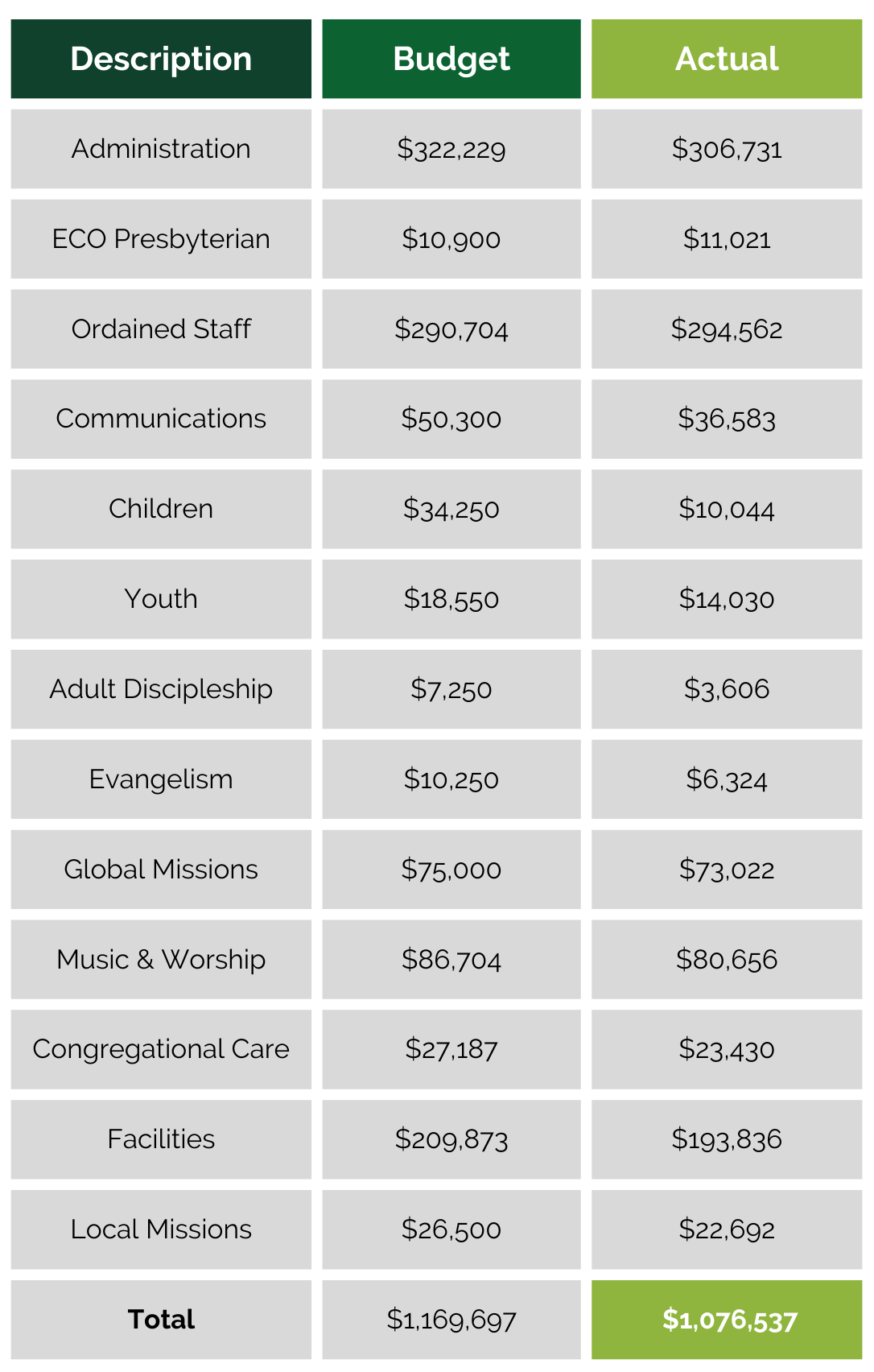 Team Reports
We asked all of our ministry teams and committees to tell us about 2022 and how they lived in to our mission of loving Jesus, proclaiming truth, serving our neighbor and growing God's kingdom.

Worship
Worship is at the heart of what we do and who we are. Every Sunday, we gather with each other to sing, pray and hear the Word proclaimed. This regular rhythm not only glorifies God; it also forms us in faith.
Our worship in 2022 was marked by joyful and biblically based music accompanied by solid biblical preaching, both in person and online. In person, we have worked to make our greeting ministry even more effective, making sure everyone who arrives gets a warm welcome.
In 2022, total in-person worship attendance was up nearly 20 percent over 2021. And while in-person worship attendance is down since pre-Covid numbers in 2019, the total of online and in-person worship is actually up nearly 10 percent.
Some of the growth in worship attendance has come from a couple dozen college students, often seen in the balcony on Sunday mornings at 9.
Here are some highlights of the worshiping life at First Pres in 2022:
We partnered with the Evangelism team to take worship out of the church building and into our community with several outreach events.
We were able to return to our some of our regular communion practices while keeping options for those with health concerns.
We celebrated several special occasions, including Pentecost, Ash Wednesday, Palm Sunday, Easter and Christmas Eve. And we got to gather to worship on Christmas Day!
We had several pop-up choirs during worship services
Prayer Points 
For 2023, pray for us to continue to find creative ways to draw others into worship.
We also pray that our worship gatherings would continue to grow enough that we'd have to find more times and places to gather.
College & Evangelism
A major highlight in 2022 was being part of the national "He Gets Us" campaign, which uses social media to tell people about Jesus. The digital platform, called Gloo, helps connect people with inquiries about God to a trained guide who helps them work through their questions or struggles. Since partnering with the platform, we have made 29 connections with community members looking for answers about God or struggling in some way.
Another highlight was growing the ministry to young adults. We have launched a specific committee to work on continuing to deepen that ministry, which already includes a small group that meets weekly.
Other highlights include preparing meals for the weekly college brunch, producing a live nativity on Court Square, starting a pickleball Bible-study group and engaging with college students at Back to the 'Burg, an event that brings all new JMU freshmen downtown.
Prayer Points 
In 2023, pray for the team as they work to continue to grow the college ministry and use the Courtyard for more outreach.
Children & Families
We are grateful for a year filled with the joy and faith of children.
The past year has afforded us the opportunity for consistency and growth. We have been intentional about being consistent after the changes brought on by the pandemic while also looking for new ways to encourage the children of First Pres and their families.
Children's Ministry invested time and energy in exploring the depth and breadth of the Word of God, encouraging time in prayer and memorizing Scripture. We have gathered for fellowship and celebration through Summer JAM Camp, an Easter-egg hunt and picnics. There has also been steady growth in our covenant partners who are willing to share of their time, energy and resources through volunteering in the ministry.
We are excited about the growth in grace and truth we have witnessed within the children. It has been a delight to watch them grasp the truth of how much they are loved by the One who made them. It has been an honor to point them to Jesus knowing that He will be faithful in each season and situation of their lives. It is a joy to pray with them knowing that He will answer when they call. It is a privilege to remind them of the gospel and watch them respond to the good news!
We are also looking forward with great anticipation to welcoming our new director, Vanessa Manson, to the position of leading this important and vital ministry. She is a woman of kindness, wisdom and abiding faith.
It is the dream of the Children's Ministry Team to see children and their families thrive as they love God and one another. We will be investing in relationships through programs, conversations and other creative methods. We also hope to have more covenant partners volunteer in this work because they recognize the special opportunity to share the Gospel with a child and subsequently be reminded of His grace.  
Prayer Points
For the hearts of the children to be gripped by His grace
For the families to be filled with the knowledge of the breadth, width, height and depth of His love
For creativity, wisdom and discernment as Vanessa and the rest of the Children's Ministry Team determine the next steps in 2023
Youth
In 2022, middle- and high-school students gathered for a number of large-group and small-group discipleship opportunities. In large group, on Sunday nights, the group heard from various followers of Jesus who talked about following Him in their everyday lives. In small group, on Wednesday mornings at Chick-fil-A, girls' and guys' groups have been discussing what it means to be a Christian. 
Youth also went to retreats: one in town and a few out of town. First Pres also hosted Harrisonburg United, a gathering of local youth groups for worship and games. The event was held in the Courtyard.
 Prayer Points 
You can pray for our youth in 2023, that they would hold on to their profession and follow Jesus in all the challenges they face.
Church Planting
The Church Planting Committee, a newly formed team at First Pres in 2022, began its work by stating a purpose: "to obey the Great Commission with the Covenant Partners at FPC by aiming to participate in planting a new church every five years."
 The committee has been exploring what it means to "participate" in church planting and what it can look like for First Pres in the coming years as we seek to engage our neighbors with Jesus, specifically unchurched and non-believers.  
The committee wants to develop a heart for the unchurched in our community through regular focused prayer. In September, the group led a prayer walk around Court Square to spur others to pray.
The committee also supported the Arabic-speaking community and the efforts of Wael Malek, who is pursuing a seminary degree to become a church-plater. First Pres has provided Wael with pastoral guidance, financial assistance and support for events, including the International Festival held downtown.
 The team is actively identifying local and regional opportunities for possible church plants.
Prayer Points
Pray for the Church Planting Committee in 2023, that God will clarify how First Pres can be used to grow the Kingdom in our community through church planting.
Pray that the hearts of Covenant Partners will grow with a focus toward the unchurched.
Pray that the will of God will be revealed in answering the when, where, how and who involved in the church-planting process
Global Missions
The core of the Global Missions Committee's work of identifying and supporting missionaries is the Great Commission. The team works to be more faithful, more prayerful, more informed of best practices on the mission field and more in tune with the gentle nudging of the Holy Spirit.
First Pres partners with missionaries, including mobilizers, in three Central Asian countries, a Middle Eastern country, three Asian countries, Cameroon, South Africa, Cuba and an indigenous church of native Alaskans in Alaska.
Engaging on Zoom with our mission partners in Jimma, Ethiopia, multiple times has been a blessing to First Pres and those in Jimma as we learn to better plan, pray for and understand how God is using and growing the two churches.
The team experimented with a live Zoom session with a missionary who had recently returned from and would be returning to a very difficult, war-torn nation within days of the call. More than two dozen participants, most from First Pres, were part of the session. The committee hopes to find ways to do this kind of meet-and-greet again.
Also during the year, the committee assisted an indigenous Iranian partner with legal assistance in a predominant Muslim country where he and his family were refugees.
First Pres also responded to a call to assist Kerus missionaries Jennie and Marsha with a critical vehicle need.
The committee supported a short-term mission experience by a college student who traveled to an Indian reservation in a western state.
Looking to the new year, Global Missions will plan for a visit from two leaders from First Pres' sister church in Jimma, Ethiopia, in the fall of 2023. The team is looking at the feasibility of an English-learning event in Jimma in 2024.
Prayer Points
Pray for the team as they work to steward their funds toward mission partners who are telling others about Jesus.
Pray, too, for our mission partners. As one of Global Missions committee member said, "I want all of our partners to serve their neighbors courageously and proclaim the Gospel to those that truly need it. I want our time and treasure to especially go to those who are reaching the unreached people groups in the world." Pray this would be so.
Local Missions
The Local Missions Committee's aim is to provide for needs in our community. Some 2022 highlights: 
As a result of Anne Morrison's generous bequest, the committee distributed $2,000 in grants to five local organizations that work with disadvantaged youth, with special focus for the visually impaired.
The team coordinated the Friday lunch Soup Kitchen.
During the pandemic, the team recognized some 200 health-care workers at Sentara RMH with a $10 Sheetz gift card and a gift sandwich provided by Chick-fil-A.
The team increased its involvement with the local international community through the Christian Arabic Church of Richmond, working with a refugee family from Afghanistan and helping with the International Festival downtown in September.
In early December, six covenant partners and four others traveled to Florida to assist Samaritan's Purse with Hurricane Ian clean-up.
The continued generosity of covenant partners supports budgeted organizations, the monthly Local Missions offering on the last Sunday of the month and a few unexpected situations when people are in need. 
Prayer Points 
Pray for the team when they face unexpected needs and requests for financial assistance so that they can discern the best way to be good stewards of funds.
Pray for the team as they consider partially supporting a newly established chaplain at the Rockingham County Jail.
Personnel
Personnel committee, after an extensive church-employee wage scale study in 2021, implemented those wage corrections and adjustments in 2022.
The committee has begun a complete pastoral job-description study for all the pastors and worship director. The effort is to understand the additional duties that each position has taken on since their initial hire and how that lines up with the job description as written. The purpose is to create staff balance and support. This effort is being carried over into 2023.
The committee honored pastors and staff with a Christmas breakfast in December.
Prayer Points
Pray that our pastors and staff are growing in Jesus so that their ministry can be an overflow of their own spiritual growth.
Pray for Pastor Scott and Pastor Billy, who will be on sabbaticals at two different times in 2023.
Communications
In addition to internal communications, much of our communications efforts are online outreach. Here are some highlights from our various online channels.
YouTube
Storytelling is a key part of how we are communicating about First Pres. Of the top 10 videos watched in 2022, three of them were Say So Stories, or testimonial videos about the stories of First Pres members.
Average Sunday worship views are 62 on YouTube. This takes into account people watching later. Our live views were 28 at their peak, 11 average. Overall, though, our top video viewership for 2022 on YouTube was 288, and the top 10 videos had anywhere from 90 to 288 viewership, showing that it is our non-Sunday worship videos that are getting the most traction.
On YouTube, we went from 202 subscribers to 245 this year, a 21% increase.
65% of our YouTube video views, though, are nonsubscribers.
Facebook & Instagram
We published 200+ posts this year, usually four to five times per week, focusing on discipleship and evangelism, not on event promotions. In other words, we are publishing discipleship content such as sermon clips, blog posts and other content that helps people grow in faith. We do some event promotion, of course, but the goal is discipleship (making and developing disciples).
We had 27,000 engaged on Facebook, a 44 percent increase over the previous year.
Facebook records us as having 43,135 people reached in 2022 (that's the number of people who saw our content at least once). That's a 7% increase over last year.
On Instagram, we have 469 followers, with 208 accounts engaged and 3,666 accounts reached with our various posts during the past 90 days.
We see our best growth on Instagram in Reels, short video clips, usually sermon clips or other discipleship content.
On both Facebook and Instagram, we see growing interest in discipleship writing — things like Pastor Jon's "What I'm Thinking" and blog posts others reflecting on applying scripture to everyday life.
Web Site
Number of page views increased 10% in 2022 from the previous year
The top "landing pages" (where people start on our site) include the home page, the worship page and individual blog posts. Creating helpful blog content is a key to drawing people to our "front door." By creating blog pieces that intersect with faith and life, we show people that First Pres is a place they can investigate faith questions. This is key in web strategy.
Facilities
We began the year putting a fresh coat of paint on the Christian Education office in anticipation of someone being hired for that position. We also got to experience disposing of a 25-foot Christmas tree, the first of its kind having been erected in our new courtyard for Christmas 2021. New blinds were put up in between the three rooms used for the nursery, and lighting was ordered and installed in all the third-floor classrooms and in the stairwells of the Christian Education building.
 In March, First Pres hosted a large conference in Showker Hall for the InterVarsity women from JMU, a great opportunity to both serve the Christian community at JMU and to introduce them to our facilities. We also added some new signage to the lobby area of Showker Hall, attempting to make it more "user friendly" for guests on Sunday mornings.
Some much-needed deep cleaning took place throughout the buildings, including scrubbing down walls in the lobby of Showker Hall and in the bathrooms on both the first and second floors of Showker Hall. In April, we added drainage to the outside planters on the Elizabeth Street side of Showker Hall to keep them from separating during cold spells. Throughout the summer, we added the task of mowing, trimming and weeding the grass area of the Courtyard.
Our security company, Hawk, installed three new cameras outside for safety purposes. We added a new disposer to the sink by the dish washer in the Showker Hall kitchen in May. In addition, we replaced the faucet to the back sink in the kitchen. In June, we guided Matthew Ford, Eagle Scout candidate, and his crew in repainting Showker Hall. We also installed a new 55" television in the hallway of Showker Hall for church announcements.
In July, we undertook the task of stripping, cleaning, neutralizing and re-waxing the floor in Showker Hall. All outside bushes and trees were once again pruned in 2022. A concrete pad was installed by Wendell Maust in anticipation of our new chiller arriving sometime in the fall/winter. We also had "bird spikes" installed on the exterior of the sanctuary to mitigate a problem with roosting pigeons.
Over the course of the year, the following external groups used our facilities: Narcotics Anonymous, Friday Soup Kitchen, InterVarsity, Young Life, VAIL, Our Community Place, Dance Classes, Big Brothers/Big Sisters, VOICE, Blue Ridge Christian School, JMU Men's Lacrosse Team Bible Study, Our Community Place and Nielsen Construction. This is in addition to all the normal activities taking place in our facilities.
In 2023 (in fact, as this is being written), Riddleberger Brothers is is installing a new chiller for Showker Hall, a massive project encompassing both 2022 and 2023. We also plan on renovating the high-school room on the third floor of the Christian Education building, making it into more of a multi-purpose room for the church and community use.