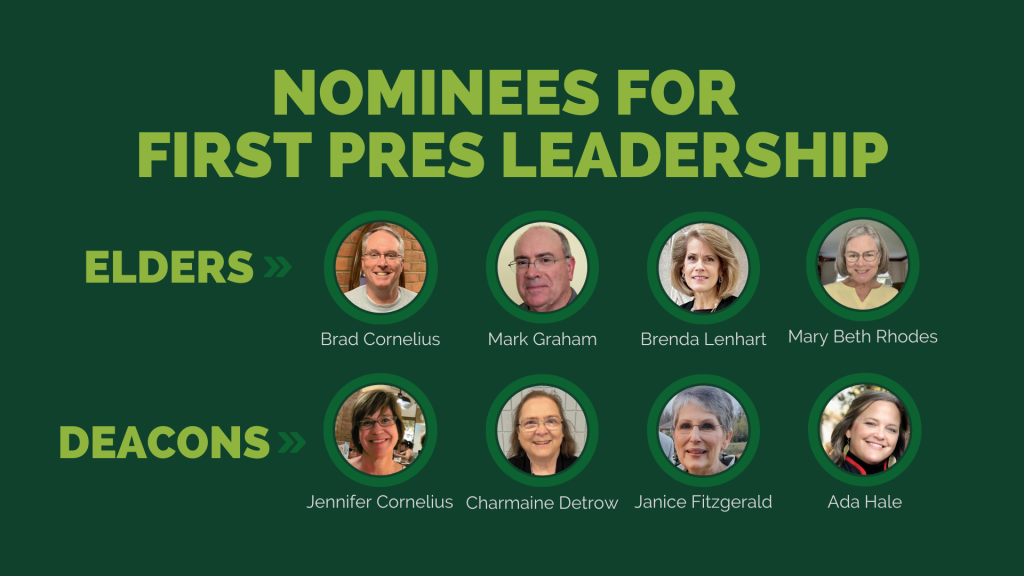 The First Pres Nominating Committee has presented a slate of leaders to begin three-year terms of service in January 2024.
Elders make up the governing body of our church, which is called the Session. They are responsible for the spiritual wellbeing of the church as they lead in prayer and governance. Deacons' primary role is to serve the church through mercy, missions and congregational care ministries.
Here are the nominees the congregation will elect at an Aug. 13, 2023, congregational meeting.
Elders
Brad Cornelius
Brad and his wife, Jennifer, moved to Harrisonburg in the summer of 2021 and began attending First Pres shortly thereafter. He is excited to be a part of the loving community of faith here at First Pres. A native of Cartersville, Georgia, Brad's 31-year career at Farm Credit has taken him through previous stops in Georgia, Pennsylvania and North Carolina. Brad and Jennifer have two daughters. Emma is a second lieutenant in the United States Army and Lonni is a student at the University of North Carolina at Charlotte. In his spare time Brad enjoys reading, shotgun sports and following Georgia Bulldogs football.
Mark Graham
Mark and his wife, Martha, joined First Pres in 2004, drawn to a church where Christ is the focus, the action of the Holy Spirit is encouraged and Holy Scriptures are relied on. Mark and Martha have three sons and one daughter, all married, and 10 grandchildren. Mark is an avid reader and golfer, and particularly enjoys playing golf with his family. Mark is a CPA and currently serves as chair of the church's Personnel Committee. As a member of Session, he is eager to serve and lead in expanding God's kingdom and helping all believers grow as devoted followers of Jesus.
Brenda Lenhart
Brenda and her husband, Jeff, and have been married 30-plus years and have two children, Will and Ashley, a son-in-law, Darren, and grandson, Daxon. Brenda's greatest joys are spending time with family and friends, cooking, learning more about good coffee, and serving in a variety of positions at Bible Study Fellowship. Brenda is looking forward to serving as an elder because she feels called to do so and is very grateful for the solid Bible teaching, wonderful worship, and sincere fellowship they enjoy at First Pres.
Mary Beth Rhodes
Mary Beth and her husband Terry joined First Presbyterian church in 2004. They appreciate the True Word of God being lifted up from the pulpit every Sunday and enjoy the contemporary service along with the praise music. Mary Beth is ordained as an elder and serves on the Evangelism Committee. She and Terry also help teach the 3rd-5th grade Sunday School class. They have three sons and one daughter, all married, and are blessed with five grandchildren. Mary Beth is excited about all the new covenant partners joining the church and looks forward to serving as an elder and helping to lead and guide First Pres over the next several years.
Deacons
Jennifer Cornelius
Jennifer and her husband, Brad, became Covenant Partners at First Pres in the spring of 2022. They have two daughters, Emma and Lonni. Jennifer was a teacher/school librarian and taught in both public schools and private Christian schools. She was baptized and raised in the United Methodist Church and has always been an active member in whatever church she attended. Here at First Pres, Jennifer volunteers for Children's Church, helps serve communion, and is a Neighborhood Shepherd for the Lakewood subdivision. Jennifer will also be helping with Summer JAM this year. She is excited to serve because she likes being a part of a church family. In her free time, Jennifer enjoys travelling, hiking, lounging by a body of water, and socializing.
Charmaine Detrow
Charmaine has been a Covenant Partner at First Pres for about 10 years and looks forward to sharing her abilities with the congregation as a deacon. She is married to David, and they have a 30-year-old son. She has worked as a teacher, bookstore employee, personal caregiver, tour guide and more. Charmaine loves to travel, read, sew, quilt, watch Steelers and Buckeyes football, and participate in 17th and 18th century dances. At church, she helps with Congregational Care and Kerus Quilters.
Janice Fitzgerald
Janice and her husband, Dennis, are excited to be Covenant Partners at First Pres, and Janice is humbled by the invitation to serve as a deacon. After selling the bed and breakfast that she and Dennis had run since 1999, Janice feels she has more time to devote to worship and service. Prayer has been a primary interest, a study and a practice since 1982. Janice meets faithfully with the prayer team on Wednesday mornings. She feels blessed to spend time with their three children and eight grandchildren. Following the advice of Proverbs 3:5-6 that has faithfully guided her path so far, she looks forward to more exciting revelations to come at First Presbyterian.
Ada Hale
Ada lives in Grottoes with her husband, Chase, and their three children, Charlie, Stella and Eliza, who, Ada says, are her "greatest joy apart from the Lord." She loves nurturing and supporting her family in their many endeavors. She works at Student Life at JMU and finds fulfilment in being a witness and "light" (Matthew 5:14) there. Since joining First Pres in 2020, Ada has served on the Children's Ministry Team, taught Sunday School and served on the search committee for the Children's Ministry director. She is excited to serve as a deacon since her spiritual gifts are faith and service. She hopes to further support discipleship connections among Covenant Partners and to help support them in using their spiritual gifts to find their places to serve and grow well. Ada's favorite Bible verse is Romans 8:28.