"It's more important today than it's ever been."
That's Ginger Brubaker's assessment of the need for Weekday Religious Education, which students can attend during the school day with parental permission. "We have kids that are hearing that God loves them for the first time," Brubaker says.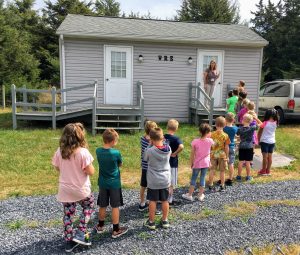 Students in second, third and fourth grade can attend the program, which meets in a small building just off school grounds.
WRE has faced challenges in recent years as numerous chapters have folded due to lack of support from school boards. In 2005, for instance, the program ended in Harrisonburg. The Rockingham County chapter of WRE is the only one of the original three that began in 1929 that is still meeting today. All told, there are 20 active chapters in Virginia, mostly along the I-81 corridor.
"We're introducing them to who Jesus is," Brubaker says, "that God is there. Some don't even know. We're planting seeds. We're not a church. We can't grow them up. We're out there scattering seeds."
WRE will receive a portion of First Pres' April 2022 missions offering. You can give here by the end of the month.