During the past few weeks, we, like everyone else, have noticed an uptick in positive cases of COVID and potential exposure to the virus. A number of our staff have had COVID, as have a number of our covenant partners.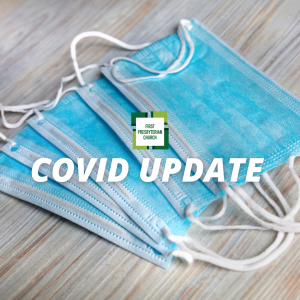 In light of this uptick, we want to continue to love one another and our neighbors, and we want to do what we can to help stem the tide. Here are some ways we can do that.
If you have symptoms of COVID, please join our livestream for worship. It is available on our YouTube and Facebook channels.
If you have been exposed to COVID, consider joining us online for worship.
When you join us in person for worship, consider taking common-sense measures to protect others by wearing a mask and spreading out.
In addition, note the following temporary changes to our program schedule.
Children and youth
Children's and youth activities usually held on Sundays will not meet on January 9 and 16. This includes nursery, Children's Church and Sunday school. It also includes all youth Sunday school classes and Sunday-night youth group times.
Sunday adult groups
The following groups have announced changes in this week's meeting plan.
The Growing In Joy class (Jim Dye & Lyle Jacobsen) will meet on Zoom only this week (and likely through January), starting at 10:15 a.m. Those joining by zoom can use this link. Meeting ID: 890 3110 7422. Passcode for the class is 067877.
The group studying Romans, led by Frank Sprinkel, is canceled this week.
The Renovation group, studying Mark and led by Dave Larson and Mike Henricksen, will not meet during January 9 and 16.
If your group has not announced changes, you can check in with your group leader for more information.
Tuesday women's Bible study
The weekly women's Bible study held at noon on Tuesdays at the church, is postponing its start until January 18.
We are praying Psalm 91
We know everyone is tired of COVID and the need to continue to be on guard. We continue to pray that we will soon be done with all of these measures. We also continue to pray through Psalm 91, where we are assured that "whoever dwells in the shelter of the Most High will rest in the shadow of the Almighty."
Thank you for the ways you have loved and respected each other throughout this pandemic, and for the ways you undoubtedly will continue to do so.