Six of First Pres' covenant partners recently returned from a weeklong trip to Englewood, Florida, where they partnered with Samaritan's Purse to provide cleanup from Hurricane Ian, which devastated parts of Florida during the fall.
The six from First Pres were joined by four others from other churches who traveled together, and they then worked alongside 100 volunteers from around the country.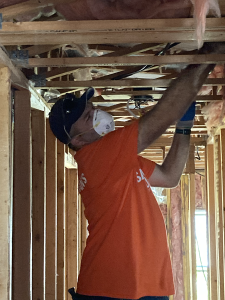 The team worked on around 15 homes while they were in Florida. The team focused on providing clean-up support for yards littered with debris from hurricane winds, providing demolition support for houses damaged by the hurricane (including drywall and insulation removal and flooring and subflooring removal) and providing roof tarping to cover holes where shingles had blown away.
"But an even more important role for our team and all the Samaritan's Purse teams was to provide a listening ear to those whose lives had been so heavily impacted by Hurricane Ian," said team member Frank Sprinkel. "We all experienced the love of God as we worked to help those who had lost so much during this powerful storm.
Prayer was also an important part of the week. "Once at a home site, we prayed as a group for the home and homeowner we would be serving," said team member and First Pres Facilities Manager Paul Seddon. "Once the work was complete, our group signed a Bible that would be given to the homeowner and then presented the Bible to the homeowner. If they allowed us to, we prayed for them prior to leaving."
Four of the families received new quilts that were made by First Pres' Kerus Quilters ministry. One of the women who received a quilt, a 90-year-old woman who was lonely and facing health challenges, cried when she received it.
Samaritan's Purse leaders emphasized that the team was there to minister to the people first, and then to get some work done if time permitted. "Everything Samaritans Purse does is geared toward loving the people and sharing the Gospel with them if the opportunity presents itself," Paul said. Volunteer chaplains from the Billy Graham Evangelistic Association (BGEA) are assigned to each team and have multiple contacts with every homeowner that is served.
Those chaplains were called into service when a woman whose home was being repaired collapsed and died while the group was there. The chaplains had shared Jesus with her the previous day and were grateful that she knew the Lord. The day after her death, they connected with her relatives to share Jesus with them, too.
Paul says that at least six people decided to follow Jesus during the team's time in Englewood.
"The trip was a growth opportunity for all of us," Paul said. "We saw Jesus at work in the folks we ministered to, and we saw Him alive and working in each of our lives."