I recently spent 24 hours as part of a prayer retreat with eight other local pastors. We took time to pray for each other, the congregations we serve and the city of Harrisonburg. It was wonderful.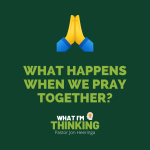 We quote Oswald Chambers in introducing our prayer guide each week remembering that, "prayer doesn't fit us for the greater work, it is the greater work." Thus, I've been thinking about the work God was doing in and through our prayers in this retreat.
I'm sure it is more but I know a few things the Lord was doing through these prayers. One was simply encouraging one another. Cooperating rather than competing as pastors is such an encouragement, and not just to us pastors.
Another thing was bearing witness to this community. Jesus tells us that it is by our love for one another that all mortals will know we are His disciples, and can you think of a greater sign of love for one another than praying for each other?
Finally, I'm convinced the Lord was stirring our hearts for the work of the Great Commission right here in Harrisonburg as we prayed over the many elements of brokenness evidenced in our community that come from people not knowing the Lord.
It really was a great work and it isn't done so please add your prayers to ours.